Matchless SSL sonics and superior build quality
The SSL2 interface features the pristine sound and superior build quality for which SSL is known. Equipped with two class-leading microphone/line/instrument inputs and 24-bit/192 kHz converters from industry-renowned manufacturer AKM, the SSL2 delivers pro-studio sonics in a small form factor. Housed in a sturdy, attractive chassis and featuring Neutrik connectors and Alps pots, the SSL2 can withstand numerous trips between remote recording locations. The front panel design provides an intuitive workflow with easy-to-read meters and an ergonomically satisfying feel. And, its high-current headphone amp ensures accurate monitoring, so you can be sure that what you've recorded is exactly what you're hearing.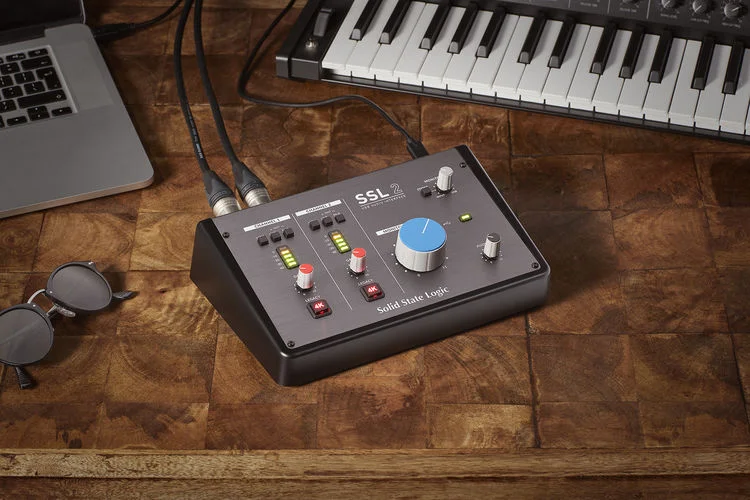 Legacy 4K button for instant analog mojo
SSL built their reputation on their celebrated large format consoles, through which countless hit records and Grammy-award winning albums have flowed. In particular, the SSL 4000 series console has inspired generations of musicians, producers, and engineers with its undeniable analog mojo. The SSL2 brings that signature 4000 series sound into your project studio with its Legacy 4K feature, which, with the push of a button, imparts the preamps with two essential characteristics of the 4000 series signal chain. The first thing you'll hear is a musical, high-frequency EQ boost that will push your vocal or instrument forward in the sound field, for a deeper, more dimensional sonic profile. Then, you'll notice a subtle addition of harmonic distortion that sweetens the sound and adds personality to the signal. For small format recording interfaces, there is nothing quite like the Legacy 4K button, available on the SSL2.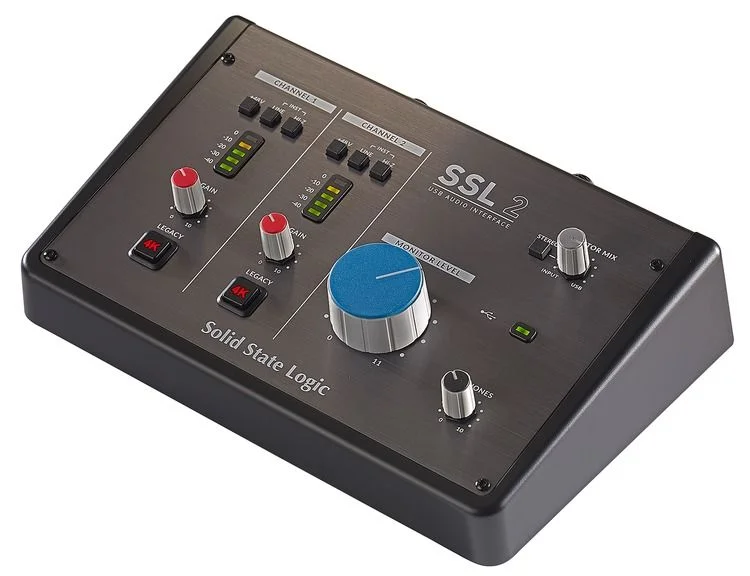 Bundled SSL Native and third-party software
To get you started recording right out of the box, the SSL2 ships with a comprehensive production pack, including third-party software from Avid, Ableton, and Native Instruments, and over 1.5GBs of samples from Loopcloud. In addition to this formidable software suite, the SSL2 comes bundled with two SSL Native channel strips: Vocalstrip 2 and Drumstrip. With Vocalstrip's four vocal-specific processors — De-esser, De-ploser, 3-Band EQ, and Compander — you can easily achieve an articulate and impactful vocal sound. And Drumstrip provides five carefully selected processing tools — including transient shaper, drum gate, high- and low-frequency enhancers, and the classic Listen Mic compressor — to add clarity, punch, and heft to any drum recording.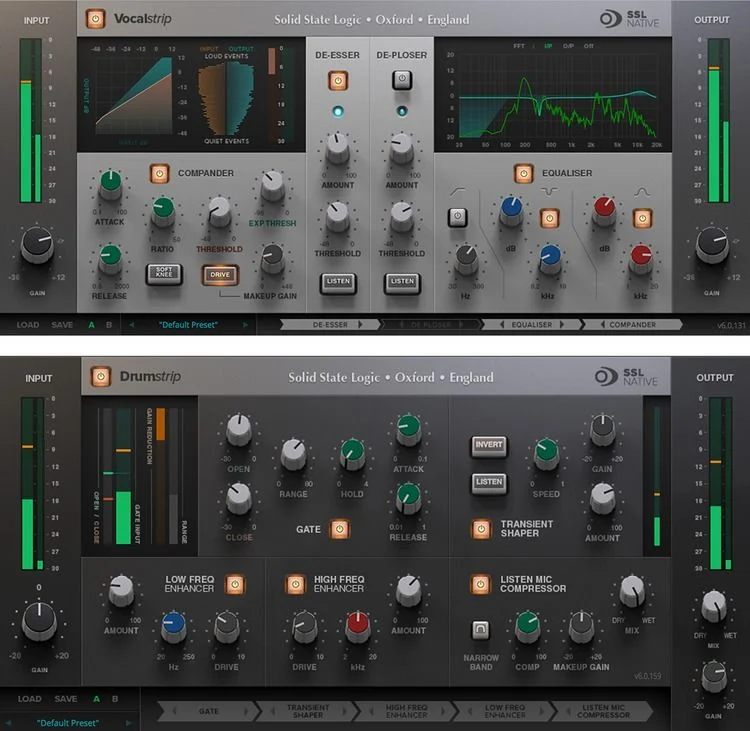 Solid State Logic SSL2 USB Audio Interface Features:

Legendary SSL sound for your home or portable studio
2 class-leading microphone preamps
Pristine 24-bit/192kHz AKM converters
Solid build quality, with heavy-duty chassis, Neutrik connectors, and Alps pots
Intuitive front panel design with easy-to-read meters
High-output headphone amp for accurate monitoring
4K Legacy mode imparts 4000 series analog console sound
Bundled with Pro Tools First, Bomb Factory plug-ins, Ableton Live Lite, Hybrid Keys, and Komplete Start
SSL Native software bundle with Vocalstrip 2 and Drumstrip
Includes 1.5GB of samples from Loopcloud